3 Queens of Motown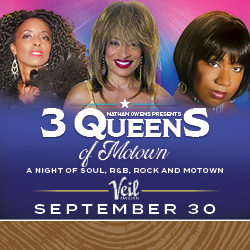 A Night of Soul, R&B, Rock and Motown
Saturday September 30, 2023


Step back in time and immerse yourself in the golden era of soul, rhythm, and pure musical brilliance. Get ready to experience the electrifying "3 Queens of Motown" show! This captivating production brings together three extraordinary performers who embody the essence of Motown's legendary leading ladies. Get ready to witness Stacy Carter as the iconic Diana Ross, Lea Sweet channeling the unstoppable Tina Turner, and Samantha Alexes capturing the soulful power of Aretha Franklin.
Prepare to be transported to an era where music reigned supreme, and these three queens ruled the charts. With impeccable attention to detail, the performances are a dazzling display of talent, paying homage to the remarkable careers of these Motown icons. From the grace and captivating presence of Diana Ross to the raw energy and soulful intensity of Tina Turner and the unmatched vocal prowess of Aretha Franklin, these performers bring their unforgettable personas to life.
Backed by the incredible Nathan Owens and his red-hot 7-piece show band, every moment of the "3 Queens of Motown" show is a testament to the timeless power of Motown music. Nathan Owens has assembled some of the finest professional musicians on the West Coast, ensuring an unforgettable night filled with soul, funk, rock, and, of course, Motown. The band's tight rhythm section will transport you straight to the heart of Detroit's legendary Motown sound.
The "3 Queens of Motown" show is not just a tribute; it's an immersive journey through the greatest hits of Motown, brought to life by a cast of exceptional performers and a band that exudes passion and musical brilliance. So, gather your friends, put on your dancing shoes, and get ready to experience an unforgettable night of soul, R&B, rock, and Motown.
Lea Sweet as Tina Turner
At age six, Lea saw the Ike and Tina Turner Revue, her first live concert in her hometown of San Francisco. She became so inspired by the show that Lea dreamed of becoming an entertainer and owning the stage like Tina Turner with her powerful vocals and dancing.
Samantha Alexes as Aretha Franklin
Samantha Alexes rocks steady as she entertains sold out audiences in the Nathan Entertainment tribute show, paying tribute to Aretha Franklin and Gladys Knight with vocals that wow audiences. After 30 years of performance experience, Samantha still holds dear to her heart, her true mentor and music influence, Aretha Franklin
Stacy Carter as Diana Ross
The 3 Queens is blessed to have the vocal talents of Stacy Carter grace the stage as our Diana Ross. Stacy's love for the music of Diana Ross started at an early age in San Francisco. Stacy has opened for Klymaxx ("The Men all Pause") and Lakeside ("Fantastic Voyage").
Nathan Owens – Music Director
For more than 40 years, Nathan has been entertaining audiences all over the world, performing alongside superstar entertainers such as Stevie Wonder and Kool & the Gang, just to mention a few. Whether its vocals, guitar, keyboards, or drums, Nathan Owens never fails to get the party started. Nathan is well known from performing in California and Las Vegas nightclubs and casinos with his family band, The Brothers Owens. The "3 Queens of Motown" show Is backed by Nathan's red-hot 7-piece show band that is made up of some of the best professional musicians on the West Coast.
General Admission – $25++
General Admission seating is first-come, first-serve.
Doors open at 7pm and the show starts at 8pm.