An Evening with Los Lonely Boys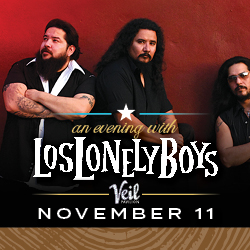 Saturday, November 11, 2023

Join us at Veil Pavilion for an Evening with Los Lonely Boys!
Family has always been at the center of things for Los Lonely Boys. Henry, Jojo, and Ringo Garza have been playing and touring together since they were teenagers. Three years ago, they decided to take a break to focus on their own growing families. But Summer 2022 saw them back at it again, returning to life on the road alongside The Who. The Boys have been making music together for seventeen years now, and they show no signs of slowing down or losing inspiration. Today, you'll find them in the studio, working on their newest album.
The story of how the Garza brothers rode their bluesy "Texican rock & roll" sound from San Angelo, Texas, to worldwide fame is one of rock's great Cinderella tales. The three young brothers formed a band, got signed to a major label, and had a hit single that propelled them to stardom. They sold 2.5 million records, won a Grammy, and received five more Grammy nominations in the span of their career.
General Admission – $45++
General Admission seating is first-come, first-serve.
Doors open at 7pm and the show starts at 8pm.