Mermaid School for Adults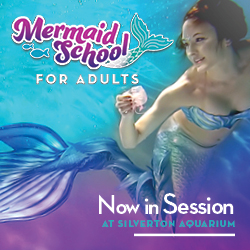 8:30am - 10:00am



On Select Days For those who have dreamed of being a mermaid, the opportunity has arrived. As part of the magical 90-minute experience, fans ages 19 or older are transformed into a famed Silverton mermaid and swim in the casino's 117,000-gallon aquarium, along with thousands of tropical fish and rays.
Each session includes:
A mermaid "warm up" class

A Mermaid School photo op

A mermaid swim in the aquarium with a tail (sizes available up to 3XL)

A behind-the-scenes tour of the aquarium and the sea life that lives within it

A voucher for a free post-class mimosa at a casino bar (for participants age 21+)

A voucher for a free post-class scoop of gelato at Sundance Grill (for participants ages 19 or 20)

A voucher for 15 percent discount on breakfast or brunch at Sundance Grill

And, of course, the experience of a lifetime.
Classes are $225 per participant plus fees.
All equipment, including goggles, is provided. Participants need only bring a swimsuit or towel. Reservations must be booked at least 24 hours in advance. There is a minimum of two participants per class and a maximum of four.
Note: this program is intended for participants who are strong swimmers. Mermaid tails are available up to size 3XL. For information about private Mermaid School sessions, please contact info@silvertoncasino.com.